Black
Composite Deck Boards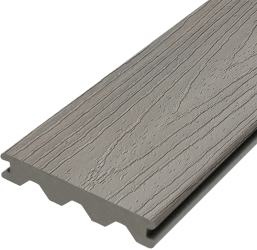 Black composite deck boards offer a bold and contemporary look for your outdoor living space. This sleek and sophisticated color adds a touch of modern elegance to any outdoor environment, making it an excellent choice for those who want a dramatic and stylish deck. Whether you're designing a chic rooftop lounge or a sleek urban retreat, Black sets the stage for outdoor sophistication.
In addition to its striking appearance, Black composite decking is built to withstand the elements. Unlike traditional wood, it won't rot, warp, or require frequent staining or sealing. Its exceptional durability ensures your deck retains its sleek, black finish for years to come, making it a low-maintenance and high-impact choice.
Black decking also provides a versatile backdrop for outdoor furnishings and decor, allowing you to create a personalized outdoor space that suits your style. Whether you prefer a minimalist, monochromatic look or want to use the black as a backdrop for vibrant accents, Black composite deck boards provide a canvas for your creativity.
With Black composite deck boards, you can achieve a modern and visually striking outdoor living space that stands out and makes a statement. Enjoy the bold and timeless appeal of Black without the worry of constant maintenance, and relax in an outdoor environment that exudes contemporary charm and sophistication.
Composite Deck Boards Colors
six (6) trending colors for
Co-Extrusion Composite Boards