An OASIS of Comfort and Luxury
An OASIS of Comfort and Luxury
The OASIS is a luxurious three season garden shed created to serves as an additional living space to make you enjoy your backyard more than ever. Once used only to store gardening equipment, this new style of shed is now considered as an extension of your house allowing you to create an exceptional outdoor living space.
Impeccable Aesthetics and Design
This shed with its perfect finish, is made of our FIBERWOOD coextrusion composite with the PROSHIED PREMIUM protection and high quality aluminum. We have added large thermos double patio doors, insulated walls and integrated gutters. In addition to its impeccable aesthetics, this shed comes with a basic 15-year warranty, which testifies to the solidity of its design and its high-quality materials.
Impeccable Aesthetics and Design
Much less expensive than a home addition or extension, this ''lifestyle'' shed is ideal for creating a unique living space in your yard: extra living room, mini bar with dining room, bedroom, home theater, training room or simply a relaxation area, anything is possible with this shed.
A Cheap Alternative to Extensions
Built to last over time just like your home, our engineers designed the OASIS to withstand our harsh North American weather conditions.
Composite boards with PROSHIELD PREMIUM protection:
High quality aluminum procuring a solid metal that does not rust over time.
Premium modular design.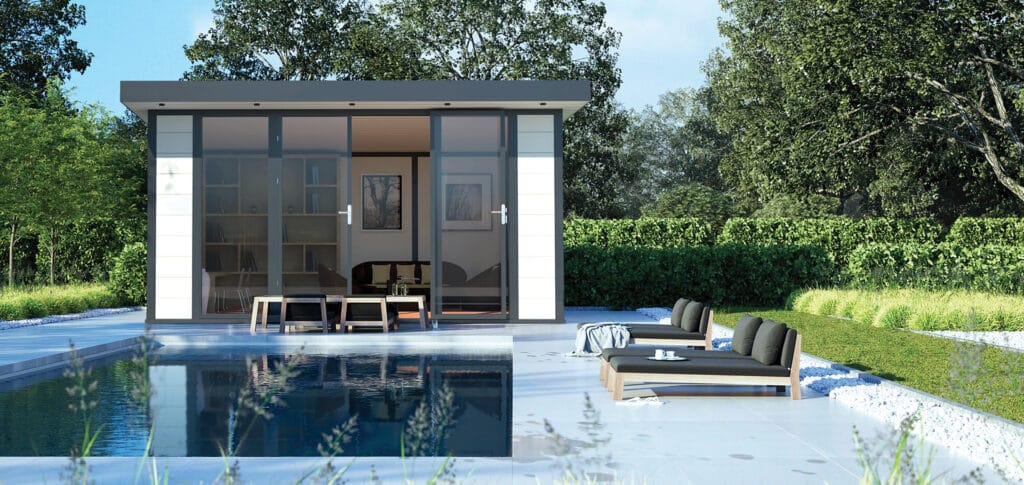 As for security, the OASIS is fully protected with lockable patio doors. The Oasis' thermos windows are also made of tempered glass to avoid any possible injury if broken.
Easy to Install and Maintain
Our FIBERWOOD sheds are all designed in a modular way, so no adjustment or cutting will be required
With only simple tools, 2 workers can complete the assembly in 1 day.
The installation of the shed must be done on a solid leveled base. Concrete slab, asphalt driveway, paving stone or slabs, wood or composite terrace, several options are available to you. 
Our sheds are all delivered on pallets. 
Bilingual assembly instructions are simple and clear. 
Very easy to maintain: no oil, paint or stain is required over time. 
Full 15-year warranty on the entire structure of the shed.